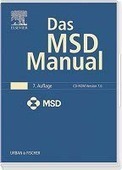 "Das Merck Manual of Diagnosis and Therapy ist ein einfach zu handhabendes Informations- und Nachschlagewerk für Ärzte über Krankheiten, Diagnosen, Krankheitsvorbeugung und Behandlungsmethoden. In 14 Sprachen übersetzt und laufend aktualisiert, liefert die 7. deutsche Auflage der Übersetzung der 18. Auflage des amerikanischen "Merck Manual" auf 3.648 Seiten umfassendes Wissen zur Diagnostik und Therapie aller klinischen Fächer, in 22 Kapiteln. Die Neuauflage bietet eine dem aktuellen medizinischen, therapeutischen und pharmakologischen Wissensstand angepasste Aktualisierung aller Themenbereiche sowie neue Rubriken mit erst seit wenigen Jahren aufgetretenen Krankheitsbildern.
Die Online-Ausgabe bietet über die Suchfunktion einen einfachen, schnellen und exakten Zugang zu allen gewünschten Informationen.
Der Verzeichnisbaum ermöglicht einen Zugriff auf Abschnitte und Kapitel wie in der Printausgabe.
Kapiteln:
ERN – Ernährungsbedingte Störungen
GIT – Gastrointestinale Krankheiten
HEP – Krankheiten der Leber, der Gallenblase und der Gallenwege
BEW – Krankheiten des rheumatischen Formenkreises und des Bewegungsapparats
PUL – Lungenkrankheiten
INT – Intensivmedizin
HKK – Herz-Kreislauf-Krankheiten
HNO – Hals-Nasen-Ohren-Heilkunde
ZMK – Zahn-, Mund-, Kieferkrankheiten
AUG – Augenkrankheiten
DER – Erkrankungen der Haut
HÄM – Hämatologie und Onkologie
END – Endokrine und metabolische Krankheiten
IMM – Immunologie, Allergien
INF – Infektionskrankheiten
PSY – Psychische Störungen
NEU – Neurologische Krankheiten
URO – Urogenitaltrakt
GYN – Gynäkologie und Geburtshilfe
PÄD – Pädiatrie
PHA – Klinische Pharmakologie
VER – Verletzungen, Vergiftungen
SPS – Spezielle Fachgebiete"
---
See on www.msd-manual.de