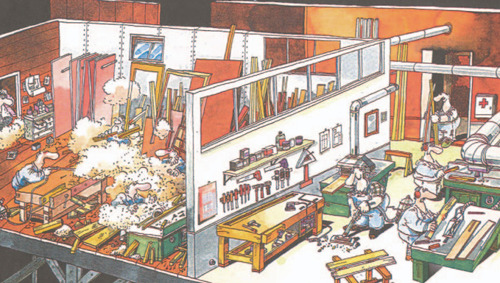 "From May 2009 to April 2010, the European Social Partner organisations for the woodworking sectors (EFBWW and CEI-Bois) together with A. USL 7, a prevention institute from Siena, Italy, carried out a joint project on better prevention against exposure to wood dust. Exposure to wood dust is still one of the main health hazards in all our sectors. This was recognised by all project partners, who also shared the view that successful prevention is only possible based on a holistic approach. As a consequence, the project partners not only collected good practice examples for various aspects of a prevention strategy but they also organised meetings with machine producers and evaluated how the process of standardisation could be influenced.
In a joint declaration, the project partners underlined the possible health effects of wood dust, including its carcinogenic potential, and stressed that further efforts for better prevention are necessary, including initiatives at European level. This should also include a continued dialogue between producers and users of wood-processing machinery, aimed at improving the process of standardisation.
---
Brochure Less Dust
Download English version.
Download French version.
Download German version.
Download Italian version.
Download Spanish version.
Download Dutch version.
Download Bulgarian version
Download Croatian version
Download Lithuanian version
Download Polish version
Download Romanian version
Download Turkish version"
---
See on www.efbww.org