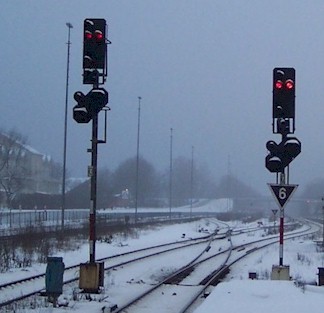 "This site describes most of the signals, boards and signs that are being used by German Railways (Deutsche Bahn AG). I have divided the site into the following sections:
German Railway Signal Systems. Here you will find a short description of all contemporary and some historical signals, aspects, boards, signs etc.
Signalling rules & practise. Contains an introduction to German signalling as well as some rules, information on usage and placement of signals etc.
Track map symbols: how to read track maps
Miscellaneous. Anything that does not fit in elsewhere.
Signal pictures: here you go
recent changes in the Signal Book
Some shortcuts:
Graphical search index
Peculiarities & Odd things
One page on North American signals: do they make sense?
See also: OSShD and OSShD signals
See also: Chinese railway signals
See also: French railway signals
See also: Signalisation ferroviaire allemande (en français)
This site has substantially been improved by Michael Urlaub, who is a signalman near Schweinfurt and has spent much work on proofreading these pages giving me lots of hints and first-hand information.
Herr Theobold has provided me with information about the Hamburg Subway signals.
My friend Zhang Bin from Beijing has provided translation of Chinese signal aspects.
Patrick Hertel from Berlin has provided some pictures from the Berlin S-Bahn.
Also I would like to thank Chris Kondur and Michael J. Stokes for helping me with British vs. US terminology.
---
See on www.sh1.org